Where
AI

and Industrial Diagrams Meet
Digital Twin Creation

Material Take Offs

P&ID Automation

Table Extraction

Contextual Search

Engineering Diagrams

OCR

Symbol Recognition

Digital Conversion

Scanned PDF Extraction

High Security / ISO 27001
Analyze and extract the data you need from Diagrams -
in minutes.
DataSeer's search function is up to 100 times faster than manual searches. Get more accurate and consistent results faster using the latest advances in AI. DataSeer automates the extraction of industrial symbols, lines, tables & text into easy-to-use, standard output formats that fit into your existing workflows.
DataSeer, built by and for engineers.
DataSeer was built in close collaboration with users at some of the largest engineering firms in the world, who we are proud to call our customers. The system is powered by Artificial Intelligence and continuously trained on tens of thousands of diagrams to automatically recognize the most common symbols in seconds. With detection errors of <1% and an intuitive verification workflow, DataSeer significantly improves quality control and quality assurance of data extraction at scale.
Rapidly identify & categorize symbols and associate them to lines and text labels using Computer Vision and Machine Learning
Review & approve automatic results via an intuitive user interface, run customized searches and share projects with collaborators
Search and find any text across hundreds of diagrams in seconds, including extraction of tables and forms to editable formats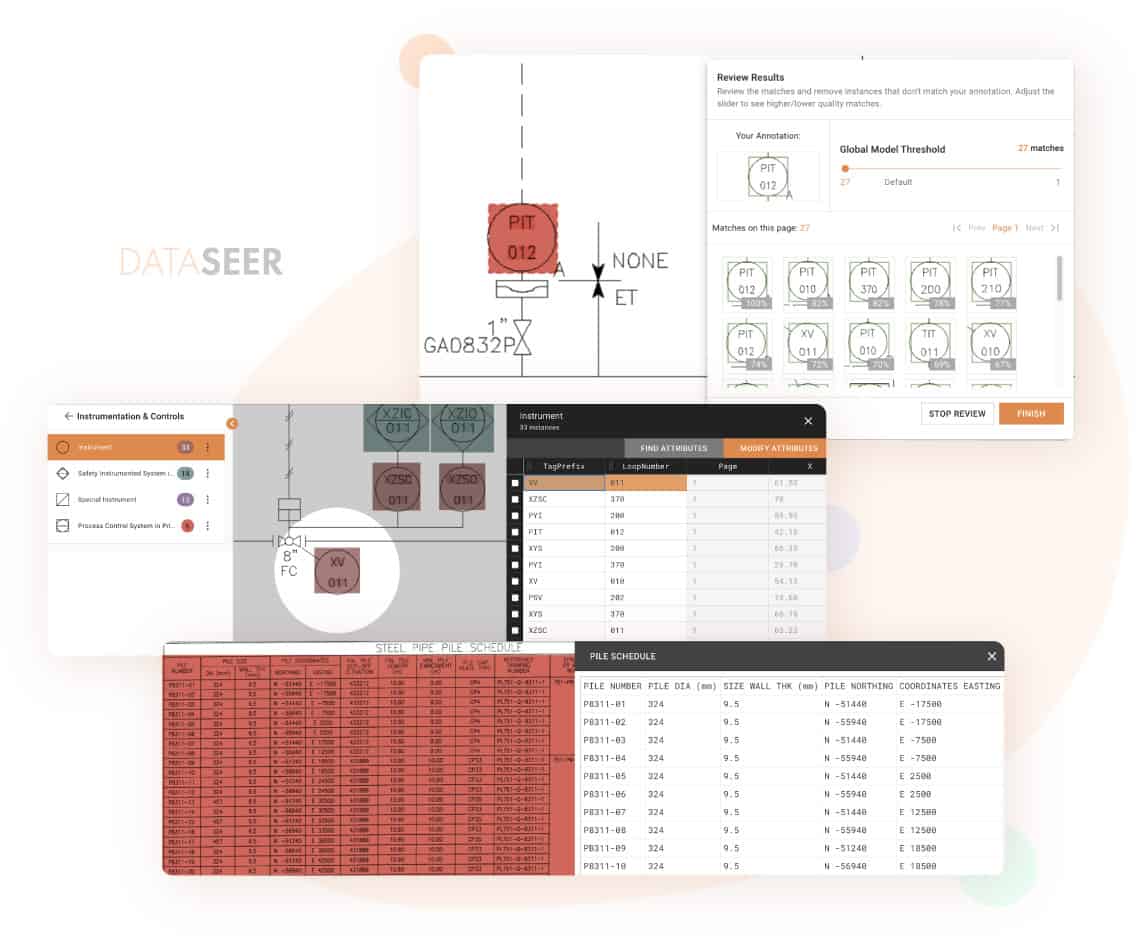 Transforming the use of Industrial Drawings
We help teams do
their
best work.
With DataSeer, your team can focus on what matters most. DataSeer dramatically decreases time spent staring at industrial diagrams and manually extracting information, with many users reporting 90%+ time savings in their project work compared to previous processes.
DataSeer automatically detects and identifies all instances of relevant symbols and associated text. Custom symbols, text and associations are quickly searchable and added into the extraction. 
Estimate costs for fabrication & construction
DataSeer delivers a drastic decrease in time spent extracting objects, lines and tables as part of material take offs in the estimation process. Our customers deliver more competitive bids in faster time.
Create line, valve & instrument lists
DataSeer allows for easy export of symbol & line counts and categories into standardized CSV format for quick incorporation into your existing workflows.
As part of a QA/QC process, line lists, instrument indexes and valve schedules can be quickly extracted from client deliverables for comparison to specifications before issuing documents.
Extract table, forms & lists
DataSeer automatically extracts tabular data, such as bills of material, part lists, production reports, data sheets, pile schedules and more. DataSeer transforms the content and structure of tables into editable CSV format.
Protect security & privacy
DataSeer was built from the ground up to satisfy the security and privacy requirements for some of the largest engineering companies in the world. DataSeer is ISO 27001 certified and audited to the strictest compliance standards.

"It's refreshing to see a company solving the mind-numbing work of manual diagram searches, translation and data extraction. I wish DataSeer was available to me as a young engineer." - Process Engineering Manager
"DataSeer will assist in our daily works, substantially. We often have to manually take-off needed information, which is an incredibly time consuming process." - Program Manager
"We recently had a client request a list of all line numbers from a large collection of P&IDs. DataSeer would have saved us countless hours. I am looking forward to our next project!" - Intermediate Mechanical Engineer
"We believe in making our job faster and easier through technology. DataSeer is a great example of this in practice." - Chief Process Engineer
"Very, very powerful." -BIM Manager
"From a process engineering perspective, this is absolutely amazing. DataSeer will solve significant challenges in our current workflows." - Project Manager
"We looked at other tools but nothing came close to DataSeer's capabilities." - Engineer II
Challenge
A large EPC wanted to improve accuracy and reduce the time its workforce spent working with engineering drawings in order to optimize its cost-estimation process. Improper cost estimation throughout the industry leads to cost overrun, delayed schedules, scope-creep, and many other project-related failures. A proper estimate minimizes overall risk, promotes good work practices, and ensures a greater level of customer satisfaction.
Solution
Results
Challenge
A Canadian engineering services provider had to conduct a risk assessment on piping & equipment as part of an operator's Risk-Based Inspection (RBI) program in order to understand existing operational health of facilities at the equipment level and piping level.
Solution
Results